Description
The willow ptarmigan (Lagopus lagopus) is a bird in the grouse subfamily Tetraoninae of the pheasant family Phasianidae. It is also known as the willow grouse and in Ireland and Britain as the red grouse. It is a sedentary species, breeding in birch and other forests and moorlands in northern Europe, the tundra of Scandinavia, Siberia, Alaska and northern Canada, in particular in the province of Newfoundland and Labrador.
The willow ptarmigan can be distinguished from the closely related rock ptarmigan (Lagopus muta) by its larger size and thicker bill and by the fact that it is not generally found above the tree line while the rock ptarmigan prefers more elevated, barren habitat. The summer plumage is browner and in the winter, the male willow ptarmigan lacks the rock ptarmigan's black stripe between the eyes and bill.
Source: Wikipedia.org
Habitats
Attractants
There are no attractants for the Willow Ptarmigan.
Retrieving
This species can be retrieved by a Labrador Retriever after being shot.
Screenshots
Videos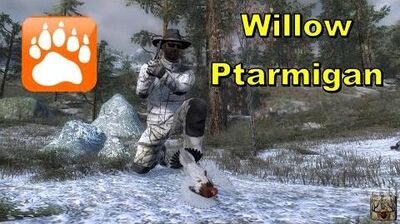 Permitted Ammunition
| | | | | | | | | |
| --- | --- | --- | --- | --- | --- | --- | --- | --- |
| Arrows | Bolts | .22 | .22 Air | .17 | 10ga Bird | 12ga Bird | 16ga Bird | 20ga Bird |
See full list here.