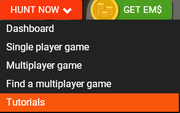 How to play
First time hunters will automatically be presented with the Tutorial-tab/page with the below choices. More experienced hunters that want to play the tutorials can choose the Tutorial-tab/page at any time. This is how it works:
Click HUNT NOW
Select Tutorials
Choose the Tutorial you want to play
Note that no statistics will be saved during the official tutorials.
Tutorial 1: The Basics
Join Doc on your very first hunting expedition and learn the basics of theHunter Classic.
Location: Whitehart Island
Tutorial 2: Fatal Attraction
Learn how to find Whitetail Deer by using tracking, spotting and calling.
Also see Other Guides.