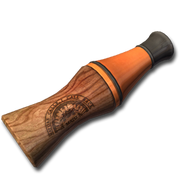 Find those sneaky Turkeys by tricking them to reveal their hiding place with this caller.
This caller functions in a similar manner to that of the Pheasant Caller. The call sound does not attract Turkeys but creates a chance of a response from any male Turkey in the area, which in turn allows the hunter to track it down using the corresponding audio clue on the Huntermate.
Response chance is tied to the score of the individual, with higher scoring Turkey being less likely to respond than low scoring individuals.
Characteristics:
Attracts: No effect
High chance of vocal response
Capacity: 0.50 units*
Community content is available under
CC-BY-SA
unless otherwise noted.