Description
Call upon the services of Max the Taxidermist to taxidermize your harvested animals that you can then showcase them in your very own trophy lodge. You can enjoy your trophies in single player mode or invite your friends into a multiplayer game to share your finest harvests.
Layouts
Capacity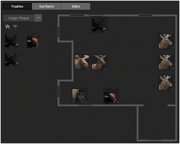 | Type | Classic | Rustic | Tropical |
| --- | --- | --- | --- |
| Large Plaque | 4 | 8 | 6 |
| Small Plaque | 7 | 6 | 7 |
| Small Round Platform | 5 | 5 | 3 |
| Medium Platform | 2 | 3 | 2 |
| Large Platform | 2 | 4 | 2 |
| Large Round Platform | 3 | 2 | 2 |
| Full Body Platform | 0 | 1 | 2 |
| Bird Plaque | 0 | 0 | 10 |
| Total | 23 | 29 | 34 |
Styles
For the Classy and Rustic lodges, customization options can be purchased. These are unlocks, which means that once purchased they can be implemented in as many trophy lodges of the particular layout as you own. A customization for a Classy trophy lodge can not be used in Rustic ones and vice versa.
Gun Racks
Gun racks are available for the Rustic and Tropical lodges.
Gameplay Characteristics
Each trophy lodge allows you to showcase animals of different sizes.
Players can own an unlimited number of lodges.
Lodges are accessible from any in-game lodge that has a trophy lodge sign outside or in your player's profile.
Lodge Management on the Website
In your theHunter profile, go to Settings - Game Management.
Select Trophy Lodge.
Select the lodge you want to edit.
Drag and drop animals into the available slots.
Animals with a house symbol are already used somewhere in this or another lodge.
Lodge Management in the Game
Walk up to the lodge and when prompted, press the E (default) key. You can access any of your trophy lodges from any lodge in any reserve.
Adding Animals
Animals can be taxidermized at the point of harvest, or afterwards from the hunt summary for a period of up to 24 hours from the time of harvest. Once Max the Taxidermist preps your trophy it will appear in your trophy manager. You can access the trophy manager from inside your lodge by pressing the I (default) key.
Selecting Positions
When you stand in front of an animal inside the lodge, use the right mouse button to enter the edit mode. Use the left mouse button to cycle though the different poses. Use Right again to save the pose.
Pictures courtesy of community member xOEDragonx.
Animals on small round, medium round and large square platforms can be rotated with help of PgUp / PgDn keys (default). Like the rest of Trophy lodge editing, this can only be executed in a single player mode.
Images
Videos
| | |
| --- | --- |
| TheHunter Classic Trophy Lodge | .17 Lever action game play and PB Feral Hog |
| TheHunter ★ Trophy Lodge | TheHunter ★ Trophy Lodge Rustic |