Jurassic World: Dominion Dominates Fandom Wikis - The Loop
Play Sound
The Hunter can be played and purchases can be made on the gaming platform Steam.
What is Steam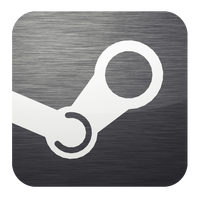 Steam is an internet-based distribution, rights management, multiplayer, and communications platform developed by Valve Corporation. It is used to distribute games and related media online. Steam provides the user with installation and automatic management of software on multiple computers, and community features such as friends lists and groups, cloud saving, and in-game voice and chat functionality.
Source: Wikipedia
This Wiki page will not explain the features or benefits of Steam any further unless they are relevant for theHunter.
Steam Benefits
There are a number of benefits Steam offers, both for the developers as well as the players of theHunter.
For the players
Steam provide statistics showing how much you played the game, and how much others are playing it.
You can use Community features such as the ability to post reviews, guides, videos or pictures.
Being on Steam allows a community overlap where members who play other games can see updates about theHunter, screenshots, reviews, and other things related to the game. It helps encourage the community to grow by exposing it to more people.
Having theHunter in the Steam Library is appreciated by players who have most of their other games on Steam as well.
Steam offers an in-game overlay with additional functions, see below.
Steam has DRM (Steam Guard) built in. The DRM checks for certain kinds of tampering, and you therefore maintain a reputation with Steam.
Steam offers regular sales.
For the developers
Steam has a huge pool of people who play games that are on Steam already, and may not know about theHunter, because many only look for games on Steam. theHunter will appear on Steam's game catalog, which makes it easier to find.
Steam allows developers access to their bandwidth, which drastically reduces download speeds compared to the old slow torrent system. Access to technology more modern than a basic web browser and bandwidth greater than torrenting is beneficial to the game.
For theHunter in particular
Steam has a very reliable update function. Many issues known from the former website launcher do not occur.
Steam Account and Steam Client
Make sure to meet these prerequisites to play theHunter. You must have
a Steam account
the Steam Client installed on your computer
theHunter installed on Steam
your theHunter account connected with your Steam account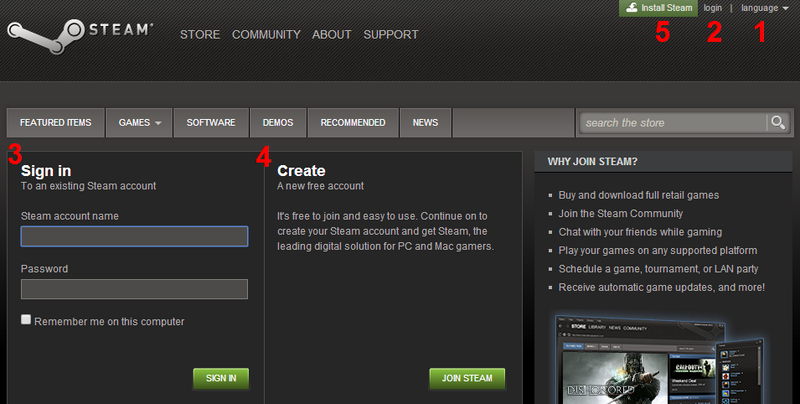 1. Go to the Steam website and select your language if available. This will facilitate everything from here forward.
2. Click on "login", whether or not you already have a Steam account.
3. If you already have a Steam account, sign in.
4. If you do not have a Steam account yet, create a new account.
5. Download and install the Steam Client. You cannot launch any games from the Steam website. Set your firewall and desktop security to trust the Steam client in order not to block any future communication between the Steam client and the Steam website.
Installing theHunter on Steam
Start the Steam Client on your computer and search for theHunter, then download/install the game. During the installation of theHunter on Steam, you can choose to have a desktop icon created.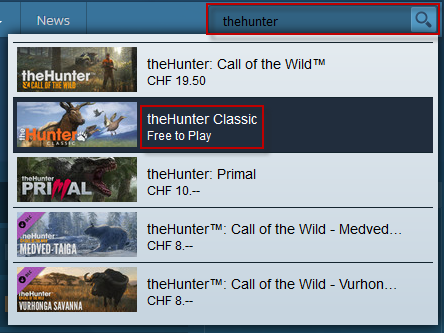 First Time Game Launch
The first time you start the game in Steam, the graphical settings must be set. Click on the cogwheel of the launcher and make your settings.
Connecting theHunter Account with your Steam Account
When you start the game for the first time from Steam, log into your existing theHunter account. This will connect your Steam account with your theHunter account. You can then start the game off Steam and will automatically log in to the correct theHunter account when the launcher starts.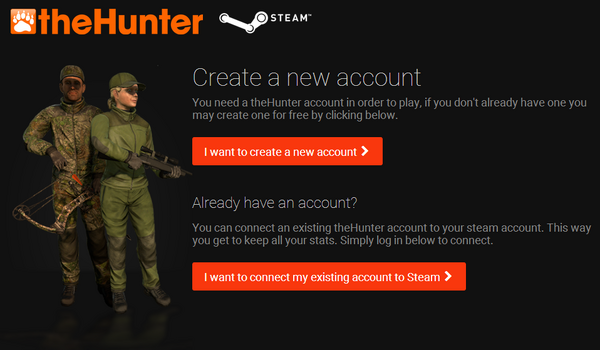 Enter the email address and password that you use for theHunter, the same as you would use without Steam.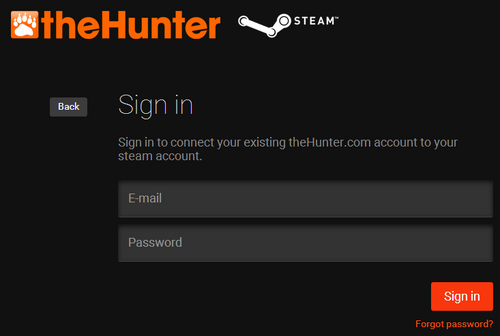 Disconnecting
If either your Steam account or your theHunter account changes, you must disconnect your current accounts. This is done on theHunter's "Account settings" under "Settings, then under "Steam settings" at the bottom.
Steam Purchases
theHunter specific currency Em$ can be bought with the Steam Wallet.
Steam Overlay
| Key | Function |
| --- | --- |
| Shift+Tab | Brings up the Steam Overlay while playing |
| F12 | In-game screenshot that goes to your Steam profile "Screenshots" gallery (not theHunter gallery) |
more to come here...
theHunter Community on Steam