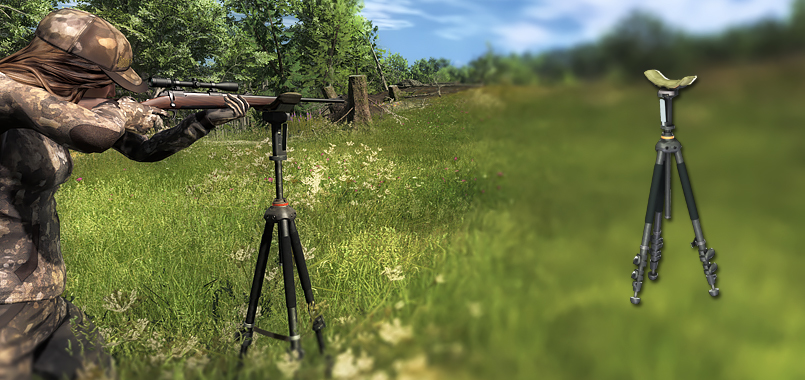 No more wiggle jiggle! This sturdy, rock-steady unit delivers dead-on shot precision for your firearms. Portable and lightweight, this tripod is ideal for hunting in the open field. Height adjustable, it works just as well from crouching position.
Variations
| | |
| --- | --- |
| | |
| Constant | Deluxe |
Characteristics
You have reduced wobble when using the tripod rest.

Boosts weapon skill by 7 levels.
If a weapon skill already exceeds level 13 then the tripod provides additional wobble reduction and increased aim steadiness beyond level 20.

Can be used for rifles, shotguns and muzzleloaders.
Can be dismantled and moved.
You can deploy it while crouching or standing.
Putting up and dismantling does not have a spooking effect on animals.
Up to 15 shooting rests can be set up in each reserve at the same time.
You can change stance and the shooting rest will adjust.
Enter/exit the tripod mod by pressing "E"/use key by default.
Your can walk in a circle around the tripod while in aim mode.
You cannot access the inventory in aim mode.
Capacity
2.25 units*
Video