Description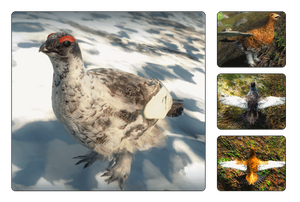 The Rock Ptarmigan (Lagopus Muta) is a medium-sized gamebird in the grouse family. It is known simply as the ptarmigan in the UK and in Canada, where it is the official bird for the territory of Nunavut, Canada, and the official game bird for the province of Newfoundland and Labrador, and colloquially as the snow chicken in the United States. In Japan, it is known as the raichō, which means "thunder bird".
The rock ptarmigan is a sedentary species which breeds across arctic and subarctic Eurasia and North America (including Greenland) on rocky mountainsides and tundra. It is widespread in the Arctic Cordillera and is found in isolated populations in the mountains of Scotland, the Pyrenees, the Alps, Bulgaria, the Urals, the Pamir Mountains, the Altay Mountains, and Japan. Because of the remote habitat in which it lives, it has only a few predators — such as golden eagles — and it can be surprisingly approachable.
Summary from Wikipedia.org
Habitats
Attractants
There are no attractants for the Rock Ptarmigan.
Retrieving
This species can be retrieved by a Labrador Retriever after being shot.
Screenshots
Videos
Permitted Ammunition
| | | | | | | | | |
| --- | --- | --- | --- | --- | --- | --- | --- | --- |
| Arrows | Bolts | .22 | .22 Air | .17 | 10ga Bird | 12ga Bird | 16ga Bird | 20ga Bird |
See full list here.