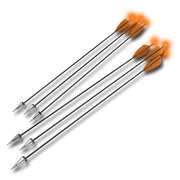 Description
A recurve bow for with a modern feel. It may have cutting edge materials and looks but it still needs the same age old skill to use.
This weapon was exclusive for some time. It could only be retrieved by ranking 1-3 in the 2015 Valentine's Event during February 9-15, 2015, or by buying 5000em$ during March 14-15, 2015. It was made publicly available on July 22, 2015.
Ammo
Permitted Species
Ballistics
The Recurve Bow has no sights and thus no zero settings.
Capacity
1.50 units *
Screenshots
Videos