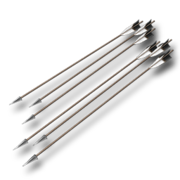 Description
Traditional sightless longbow. Recommended for skilled hunters that want to experience the thrill of hunting like back when the wheel was considered high-tech.
Note that this bow is made for hunting and that it should in no way be confused with an English Longbow made for war. While the warbows are allegedly powerful enough to crack armor the insane draw weight makes them inaccurate and impractical for hunting. Expect performance slightly lower than that of the Recurve.
Ammo
Permitted Species
Ballistics
The Longbow has no sights and thus no zero settings.
Capacity
1.5 units *
Videos