Notes
Missions can be activated on the website or in the launcher.
You can activated the first mission of every mission pack.
Subsequent missions will unlock as you complete the previous ones.
When completing a mission, you can activate the next in line while still playing.

No need to leave the game.
Switch to the website or launcher and refresh.
Refresh the website with F5.
Refresh the launcher by clicking on theHunter logo in the upper left.
Activation
Step 1: To activate a mission click on MISSIONS

---

Step 2: In the Available section you will find the missions that are ready to be activated.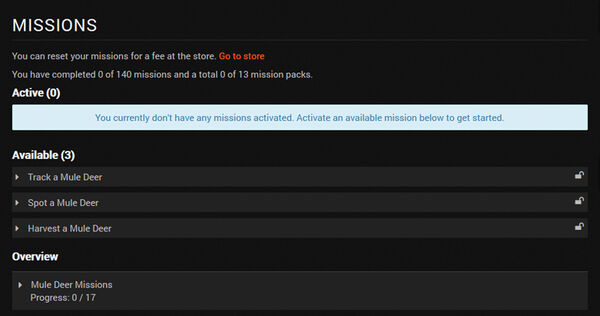 ---

Step 3: Click on the left arrow and the mission objective will open. At the bottom of the objective click on the Activate Mission button.
---

Step 4: Once you have activated a mission it will then appear in the Active section.
---
Community content is available under
CC-BY-SA
unless otherwise noted.