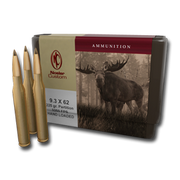 Description
Anschütz hunting rifles are known worldwide for their accuracy, precision design and unbeatable shooting performance. The perfect blend of gunsmithing craftsmanship and high-tech production. Made in Germany since 1856.
This particular model has been retrofitted with a unique stock and detailed engravings by the highly acclaimed Doc Monsignor studio. It is suitable for 9.3x62 cartridges and comes with a magazine that can be loaded with up to 5 cartridges.
The 9.3x62 cartridge does not offer the same speed and accuracy as the .300 but it more than makes up for it with unrestrained amounts of raw kinetic energy capable of taking Bear, Moose and even safari class game!
Note: All variations of the 9.3x62 Anschütz 1780 D FL Bolt Action Rifle share the same weapon skill. This means that you do not need to start over when buying an additional variation.
Magazine Capacity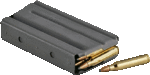 5
Ammo
Scopes
Permitted Species
Ballistics
Zero Settings

| Mode | Distance (m) | Distance (ft.) |
| --- | --- | --- |
| Iron Sights | 50 | ~164 |
| Scope | 100 | ~328 |
Inventory Capacity
4.5 units*
Pictures