SOFT-Grip Wood Orange
Holidays 2018 Edition
Description
Anschütz hunting rifles are known worldwide for their accuracy, precision design and unbeatable shooting performance. The perfect blend of gunsmithing craftsmanship and high-tech production. Made in Germany since 1856.
This particular model is suitable for 8x57 IS cartridges and comes with a magazine that can be loaded with up to 5 cartridges. It's an excellent weapon for hunting all kinds of deer.
All variations of this weapon share their Shooting Skill and their Rank. This means that if you buy a variation, you will immediately have the shooting skill that you build with your previously owned versions. The harvests of all variations are added up to the according Hunter Score ranks.
Ammo
Magazine Capacity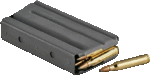 5
Sights
Permitted Species
Ballistics
Zero Settings

| Mode | Distance (m) | Distance (ft.) |
| --- | --- | --- |
| Iron Sights | 50 | ~164 |
| Scope | 100 | ~328 |
Inventory Capacity
4.0 units *
Videos