Royal Edition


Description
The bullpup design makes this rifle shorter and lighter than most hunting rifles. This exquisite engraved "Royal Edition" is made up of a light metal frame combined with a robust wooden stock - perfectly balanced to ensure a solid aim despite its lowered weight.
The rifle uses powerful 7mm magnum cartridges that can take down large prey over vast distances.
This weapon was a prize in the [forum.thehunter.com/viewtopic.php?f=9&t=73995 2016 Football Jamboree] event. It was given to those that bought the t-shirt of the winning team Portugal. It cannot be bought in the Store.
Ammo
Magazine Capacity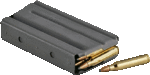 5
Scopes
Permitted Species
Ballistics
Zero Settings

| Mode | Distance (m) | Distance (ft.) |
| --- | --- | --- |
| Iron Sights | 50 | ~164 |
| Any Scope | 100 | ~328 |
Inventory Capacity
3.0 units*
Pictures