Standard
Description
The last of the great hammer guns! This elegant classic 16 GA side-by-side shotgun features external hammers, long sleek barrels, and a beautifully crafted stock.
Loaded with 16 GA birdshot or buckshot, this fine iconic shotgun will enable you to hunt in style, perfectly capturing a piece of 19th century history in a weapon that proves reliable, accurate and as devastating as its modern-day counterparts.
Ammo
The 16 GA Slug Shells are not available for this shotgun.
Magazine Capacity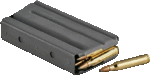 2 (no magazine; 2 barrels)
Scopes
No scope is available for this weapon.
Permitted Species
Buckshot Ammo
Birdshot Ammo
Inventory Capacity
3.5 units*
Pictures
Video
Community content is available under
CC-BY-SA
unless otherwise noted.