Wood
Description
While this classic weapon won't make you the fastest gun in the EHR it comes with an amazing amount of versatility. Compatible ammunition such as Slug, Buckshot and Birdshot makes it permitted for almost any species, just make sure you've got it loaded with the right ammo for the job.
This rifle can be picked up in the store for free.
Ammo
Magazine Capacity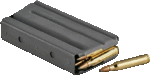 1 (no magazine)
Scopes
No scope is available for this weapon.
Permitted Species
Slug Ammo
Buckshot Ammo
Birdshot Ammo
Ballistics
Zero Settings

| Mode | Ammunition | Distance (m) | Distance (ft.) |
| --- | --- | --- | --- |
| Iron Sights | | | |
| | Birdshot | 20 | ~65 |
| | Buckshot | 20 | ~65 |
| | Slug | 50 | ~164 |
Inventory Capacity
3.0 units*
Video