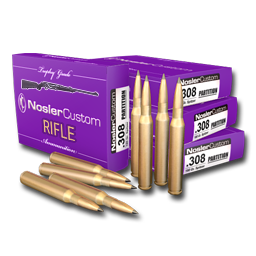 Description
.308" Nosler Partition 180 Gr. Spitzer bullet mounted on a .308 Winchester NoslerCustom brass. Ammunition suitable for any rifle using .308 ammo.
Trivia:
This ammunition used to be suitable for rifles and handguns alike.
On November 18, 2020 the ammo was split into a rifle edition and a handgun edition as announced in this update.
The performance of the rifle ammunition was greatly increased.
Weapons
Permitted Species