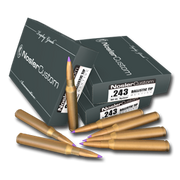 Description
High performance bolt action rifle, with composite textured stock giving great grip in the most weather extreme conditions. Reliable and durable, with a three point safety mechanism and a free floating fluted stainless barrel built to military standards.
This rifle belongs to the standard set of equipment that every player receives. Even as a guest player the .243 ammo will always be replenished for free at the start of every hunting session.
Permitted Species
Ammo
Magazine Capacity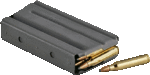 1 (no magazine)
Scopes
Ballistics
Zero Settings

| Mode | Distance (m) | Distance (ft.) |
| --- | --- | --- |
| Iron Sights | 50 | ~164 |
| Any Scope | 100 | ~328 |
Performance Rating
Visit this German Wiki page for a performance review. The rating is a personal opinion of the German Wiki author(s).
German terms used
Geringe Schussentfernung = short distance
Große Schussentfernung = long distance
Rating applied

★

★

★

★

★

excellent performance, in some cases even too strong, ideal for longer ranges and moving targets

★

★

★

★

ideal for the listed distances, immediate kills for most shots

★

★

★

suitable for the listed distances, penetration of multiple organs possible

★

★

suitable for good marksmen only, requires precise shooting or animals must be searched after the shot

★

not suitable for the listed distances, immediate kills are rare and animals must be searched after the shot
Inventory Capacity
3.0 units*
Screenshots
Version 1.0 in game until Dec 21, 2016