Plinkington Wood



Description
This is the perfect rifle for small game hunting. It is fast and accurate enough to give even the quickest rabbits a run for their money.
The .22 Semi-Automatic Rifle Winter Camo was added to theHunter in November 2015.
Spook Range
Usually rifles will spook animals within the entire render range of 220m. This rifle however does not spook animals far out. An urban legend says that the spook range of the "Plinkington" rifles is 75m (246 ft.).
Permitted Species
Ammo
Magazine Capacity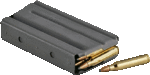 10
Scopes
Spook radius
In a patch of May 18, 2015 the spook radius was "increased and now is higher than that for bows but lower than that for other rifles".
Inventory Capacity
3.0 units*
Pictures
Pictures provided by EW and community member \m/.