Description
This handcrafted bolt action rifle is engineered with one thing in mind, to fire high velocity .223 rounds at small targets with incredible precision over great distances.
The .223 lacks the power to take on big game such as Moose & Bear but excels when used vs. small game and varmint such as Fox & Coyote due to its superior accuracy. Additional benefits includes very low ammo capacity cost and the rare ability to hunt some bird species such as Turkey with a rifle.
The .223 rifle was added to theHunter on July 18, 2013. [1]
Permitted Species
Ammo
Magazine Capacity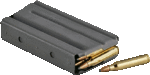 5
Scopes
Performance Rating
Visit this German Wiki page for a performance review. The rating is a personal opinion of the German Wiki author(s).
German terms used
Geringe Schussentfernung = short distance
Große Schussentfernung = long distance
Rating applied

★

★

★

★

★

excellent performance, in some cases even too strong, ideal for longer ranges and moving targets

★

★

★

★

ideal for the listed distances, immediate kills for most shots

★

★

★

suitable for the listed distances, penetration of multiple organs possible

★

★

suitable for good marksmen only, requires precise shooting or animals must be searched after the shot

★

not suitable for the listed distances, immediate kills are rare and animals must be searched after the shot
Inventory Capacity
3.0 units*